Print This Page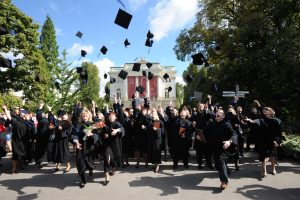 Receiving the diploma of doctor or habilitated doctor
Those who have been awarded the doctorate or doctor habilitated diploma will receive the original diploma and one copy of the diploma, and at their written request (submitted to the Faculty) also one copy of the diploma in English.
In the event of the loss of the original diploma, a person who has been awarded a doctorate or a habilitated doctor may apply to the organizational unit which has given the degree of written application for a duplicate.
You can receive a doctorate or postdoctoral degree from the Office of Doctorate Studies and Postgraduate Education from Monday to Friday from 8.00am to 4.00pm.
When you receive your diploma you must have a proof of your diploma and ID.
---
The fee for the diploma is:
100 PLN – diploma of doctor / habilitated doctor in Polish (original and copy)
40 PLN – a copy of doctor / habilitated doctor in English
150 PLN – a duplicate of the doctor / habilitated doctor's diploma (issued only if the set is lost)
Account number to be paid:
12 1160 2202 0000 0000 6084 9173
University of Warsaw
ul. Krakowskie Przedmieście 26/28, 00-927 Warsaw
Title: fee for issuing the diploma / transcript in English / diploma of the doctor / habilitated doctor's degree First and last name